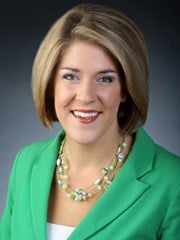 Becca Habegger
Becca Habegger
Reporter
In May of 2010, I found myself completing the state sandwich: I lived from eye-twinkle to teens in Minnesota, spent my college years at the University of Missouri and then got a reporting job with KWWL here in eastern Iowa.
As the sole Dubuque bureau reporter, I cover news in the Dubuque area and enjoy living along the lovely Mississippi River.
I grew up in Apple Valley, MN, where my high school TV program "The Flash" inspired me to seriously consider pursuing a career in journalism. That led me to the University of Missouri School of Journalism (Columbia, MO), where I worked at KOMU TV, mid-Missouri's NBC affiliate, as a reporter, producer and Web editor.
From my first day in Dubuque, I've enjoyed the people and places of eastern Iowa. (I made it a point to see the Field of Dreams as soon as possible!)
I love exploring Dubuque on my hybrid bicycle, frequenting fantastic local coffee shops and daydreaming along the Mississippi River at the Port of Dubuque. I'm also an avid baker, piano-player and singer.
Favorite stories I've covered while working for KWWL include the catastrophic Dubuque-area flooding of late July 2011, the time both Mitt Romney and President Obama came to Dubuque on the same day -- just four days before the 2012 presidential election -- and the stories of the Greatest Generation as America's veterans embarked upon the Greater Dubuque Honor Flight.

Fun Facts:
I love traveling through eastern Iowa, whether on stories or in my free time. Two of my favorite stretches of road are US Hwy 52 near Guttenberg, for its breath-taking views of the river, & US Hwy 52 from Dubuque to Bellevue, for its rolling hills and vibrant green landscape.
I was a music theatre major for one year at Illinois Wesleyan University before deciding that theatre wasn't the path for me! After taking a year off to travel, work and re-chart my course, I transferred to Mizzou (go Tigers!). I still belt show tunes, although now it's usually in my car or kitchen!
Send me an e-mail.
Follow me on Twitter.
Friend me on Facebook.