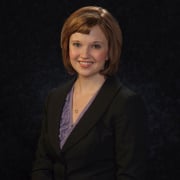 Kera Mashek
Reporter
Hello Iowa! I'm Kera Mashek, and I couldn't be happier to publish the next chapter in my television news career here. I started with KWWL in June 2010.
My television career has kept me close to my Midwestern roots. I started in Quincy, Ill., as a reporter/photographer for KHQA. While there, I also had the chance to fill in as both a news and weather anchor. After a year, I left the land of Lincoln for tornado alley. KSN-TV brought me on board to help relaunch its bureau in Great Bend, Kan. I spent two-and-a-half years covering the news of more than a dozen central Kansas counties, chasing storms and occasionally filling in at the station's Wichita office.
I'm a native of Elsberry, Missouri, where my dad spent decades in the family nursery business and my mom owned a catering business. I traveled just more than an hour south of home to attend college at Webster University-St. Louis, graduating magna cum laude with a Bachelor of Arts degree in broadcast journalism and a psychology minor in May 2006. During my college years, I worked with the campus radio and television stations, and interned at CW-11 News in St. Louis. I also served as an on-air volunteer for Minds Eye Radio, a station serving the blind and print disabled. I completed my Master of Arts degree in communications management through Webster in May 2011.
Just two weeks after being handed my undergraduate diploma, I married my best friend Floyd. We welcomed our first child, a baby boy named Drake, in December 2011. We also have an awesome puggle (pug/beagle mix) dog named Aleah and currently live in Waterloo. Our family enjoys going for walks through our neighborhood, being involved in our church and volunteering in the local community.
I'm open to your story suggestions, and would love to hear from you anytime!
Send me an e-mail.
Follow me on Twitter.
Read my blog.